History
HELSINT S.A.L. a Management and Research Company founded in 1988, acquired a one hundred-acre farming estate near Yojoa Lake in the north of the Republic of Honduras, Central America. This location has the appropriate environmental conditions for the cultivation of several Polypodiaceas (local ferns) which over the years have been used by different Amer-Indian cultures to treat a variety of health disorders. Ongoing thorough research carried out by HELSINT S.A.L. has aimed to improve product quality as well as research the therapeutic and nutritional value for human health care and better quality of life.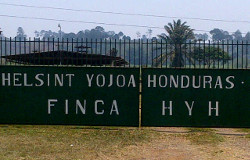 HELSINT S.A.L. established its subsidiary HELSINT YOJOA HONDURAS (HYH) in 2010, responsible for the activities related to the cultivation, harvesting and manufacturing in Honduras of the variety of products derived from this produce.
Development
Through its subsidiary HYH, HELSINT S.A.L is the only company in the world that develops monocultures of Polypodium leucotomos y Phlebodium decumanum under the expert control of taxonomists and botanists, organically processed in the agricultural factory of Yojoa Lake, in northern Honduras, and under conditions of strict respect for Biodiversity.
The cultivation, exacting botanical controls, harvesting and drying of fronds are nowadays operations developed prior to the extraction and purifying processes of different products. Furthermore, to ensure the highest quality, HELSINT S.A.L. has for years been developing a reproduction system based on spore germination of the best fern specimens in our pure monocultures.
Polypodium leucotomos was the first ecologically harvested plant in the Lake Yojoa plantation. A second plant, known as Phlebodium decumanum, botanically very close to Polypodium leucotomo, is also subjected to a thorough ecological harvesting in the Lake Yojoa plantation. Different formulations containing purified, water-soluble, customized and patented fractions of Phlebodium decumanum fronds, registered as EXPLY-37®, have been developed in the USA, Central America and Europe as nutriceutics or functional foods, registered in these countries under a series of patents and trademarks based on our product EXPLY-37® and its applications.
HELSINT S.A.L., in conjunction with the distribution company INFISPORT, has also developed the dietary supplement EXPLIVAR®, a product aimed at developing and improving physical activity and scientific nutrition applied to health and sport.